SPONSORED:  "Sponsored by Wild Florida, who did not provide editorial input."
In the early days of Pulptown, we used to share monthly recommendations for a road trip. The idea was that the itinerary and road trip could be accomplished in a few hours' drive and we'd give you best tips for what to do while there.
Today, we're back with a version of this, and though we're not going far mileage-wise, we are about to see the world (kinda). We're roadtrippin' to Osceola County to see what Wild Florida has to offer.
The Main Event. Wild Florida is the real deal, y'all. You can find the gator park, drive-through safari, and airboat tour company at the headwaters of the Everglades in a small town called Kenansville, about a 45-minute drive from downtown Orlando.
As Wild Florida likes to say, "Some road trips take you across the country, but ours will take you across continents." That's how they describe their drive-thru safari experience, which reached peak popularity during pandemic times so much so that it grew by two miles. Guide yourself through the self-drive safari, and good luck identifying all 100 freely-roaming native and exotic animals.
After the hour-long safari, head to the gator park to stretch your legs. You'll find 200+ animals inside, from albino gators to ring-tailed lemurs to two-toed sloths and one captivating bobcat. While you're there, don't miss the exotic animal shows nor the feeding of the gators. Showtimes happen once in the morning and the afternoon.
Pro-tips: Wild Florida is closed on Sundays so the animals and their caretakers can all enjoy a day of rest. If you're going, make sure it's a Monday through Saturday and plan to arrive early (gates open at 9 a.m.). If you want to do it all, prepare to stay until 3 p.m. Book your airboat tour ahead of time, download the free safari scavenger hunt, and tune into the podcast for a guided tour.
Do it for the 'Gram. The first two times I visited Wild Florida, I skipped the airboat tour. Having never been on one before, I didn't know what I was missing. Since then, I've changed my ways and felt the swamp air on my face and I'm not gonna lie — I absolutely loved it. The ride itself is thrilling but even better than that are the boat operator's tales of the Everglades and the skills they possess weaving in and out of the swamp. Also, the tour makes for a great photo opp (especially when your adorable 4-year-old nephew is your date 👇).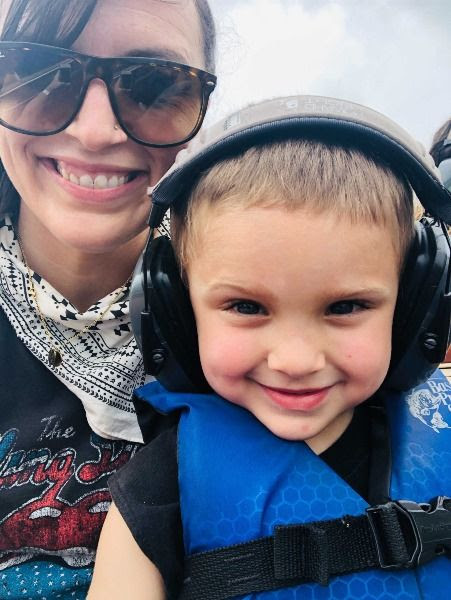 Grab a bite. Head to the Chomp House Grill for a bite to eat. Word on the street is the $18 gator platter is worth every chomp. (Sorry, no alcohol, but the lemonade will quell your thirst!)
If you have more time. Add on an animal encounter. Our No. 1 pick? Hanging with Chloe or Guy, the two-toed sloths. Pay a bit extra for a selfie with the adorable creature or go VIP where you can hold 'em and eat lunch with 'em. If sloths aren't your bag, try painting with the giraffes or chilling with the ring-tailed lemur. Luke's the Pulptown fave.
The Wild Florida Insta-Grammy goes to… @mellamocaitlin. She won our giveaway with Wild Florida back in May and the capture of her feeding the giraffes is a look of sheer happiness I'll never forget.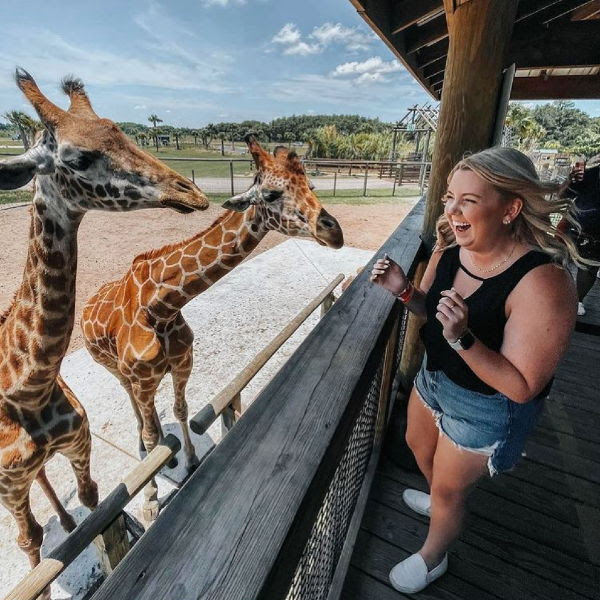 Looking for a more detailed itinerary? Like down to the minute? Check out this all-inclusive package that includes the gator park, an airboat tour, the safari, and four wild animal encounters (up close and personal with sloths, African-crested porcupines, ringtail lemurs, and tamanduas, oh my!).